Condo Buying Tips
Posted by Chad Miller on Tuesday, April 10, 2018 at 3:18 PM
By Chad Miller / April 10, 2018
Comment
Condo Buying Tips You Need To Know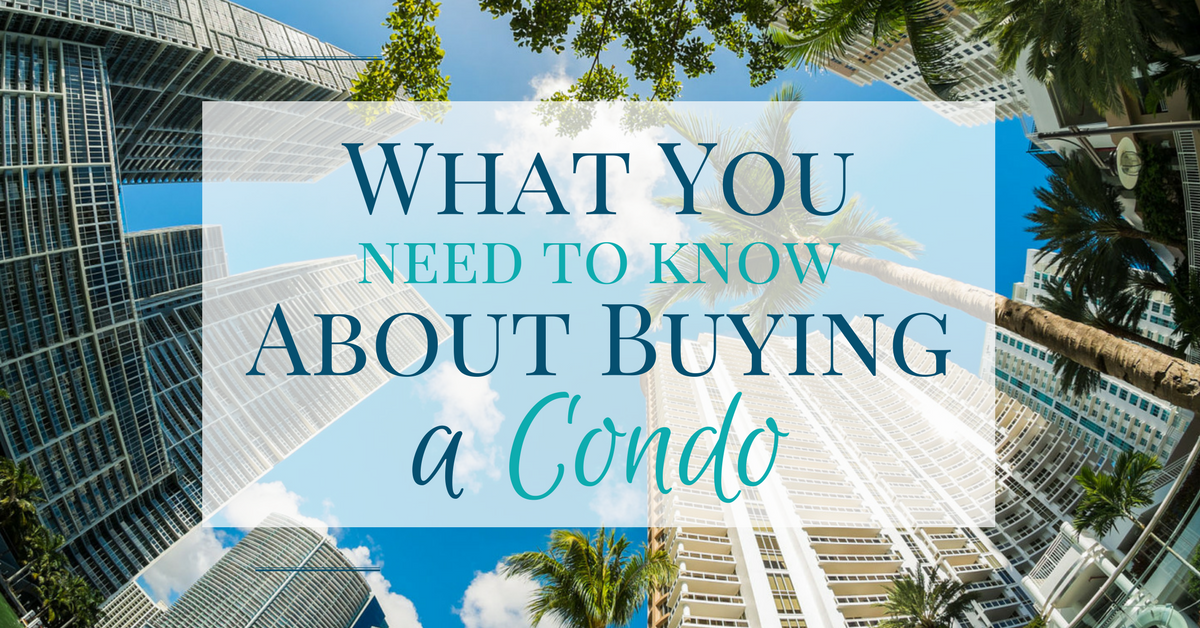 Tips for Buying a Condo
Purchasing a Condominium is a great way to create long term wealth as well as get your piece of the American Dream. Unfortunately, even experienced home buyers can run into costly issues that could otherwise be avoided.
We have outlined the steps to buying a condo to insure that your home purchase goes smoothly. Buying a Condo can be exciting and intimidating at the same time.. If you are a first time home buyer, you will need details on what it takes to buy a Condo, how to get qualified for your mortgage, get the proper H06 insurance and make sure that the road to the closing table is a smooth one.
Mistakes on a purchase of this size can be extremely costly and potential how to find the right Condo for you and your family and how to get the best deal.
The Steps to Buying a Condo
Below we outline the steps to buying a condominium and some tips in avoiding costly mistakes. Understanding the condo buying process and leveraging the knowledge of a good real estate agent will insure the purchase of your new condo goes smooth as silk.
Applying for Your Mortgage
The biggest mistake that many potential condo buyers make is believing that searching for their new home is the first step. Truth is, applying for your mortgage should ALWAYS be the first step in the home buying process - and buying a condo is no different.
Although it might seem like putting the cart in front of the horse, the best way to guarantee the Condo buying process moves along smoothly is to apply for a mortgage FIRST. Meeting with the mortgage lender and having a mortgage commitment in hand before you go house hunting will help tremendously. From the sellers point of view, when a potential buyer has all their financial documents in order, they instantly become a top candidate and that is exactly what you want to be.
Choosing the Right Lender is Ultra Important
Another important tip when choosing a mortgage lender is stay away from internet lenders. Although using the web to find and shop mortgage brokers may seem like a good option, internet lenders are known to promise the world and not deliver.
To insure that you get the best deal on your mortgage and do not end up with any surprises, you should have a local lender that you can meet face to face. Using a local lender for your condo purchase can make a HUGE difference in how smooth you transaction goes. Local mortgage brokers rely on repeat business and referrals - so they have more to lose by not delivering on what they say.
Pay Attention to the Inventory
It doesn't matter what time of year it is, the housing market in Panama City Beach seems to always be strong. It's important to remember that simply because there are many condos for sale in Panama City Beach, does not mean that they are the right one for you and your family. Keep in mind that nearly ½ of the properties listed for sale end up NOT going to an act of sale. It's also important to know that the majority of the homes that get listed for sale, that DO sell, go under contract within the first 30 days.
Those two facts make it obvious that many of the condos for sale are overpriced or have some other reason for not selling. While at the same time, the condos that are in demand and priced appropriately - sell very fast. These two facts make it abundantly obvious that if you want to purchase a waterfront condo that is in an in-demand complex and is priced well, you need to have all of your ducks in order.
Be Aggressive and Use an Agent
Another important first step in purchasing your first condominium is choosing a good agent. Your agent can help you with all your questions and concerns, and you also get to utilize their years of experience to help you with buying your first Condo. Not only does PCB have some of the best weather year round, but the close proximity to white sandy beaches draw many potential buyers of all ages. One look inside the local real estate magazines and you'll find condos of every price available for sale today.
Just because there is an abundance of properties for sale is NOT a reason to assume any property will be on the market too long. There is a tremendous demand for waterfront condominiums. Usually by the time you find the house in a magazine, it has a pending offer on it. The advantage to working with a local Realtor is they can help you to narrow down your search of available condos for sale in the area to meet your specific needs. If you are purchasing your first condominium, a very important step is getting set up on a property search with a Realtor who has access to BOTH Panama City Beach MLSs.
Being set up with a MLS search will insure that any time a new listing hits the market, that fits your specific search criteria, you get emailed immediately. Setting up these types of searches on sites such as Trulia or Zillow will always have a delay - and in the worst instances, may not show the new property at all. The only way to insure you get all of the listings as soon as they hit the market is to get with a local agent.
The Property Inspection
Once you have found the perfect condo and you have negotiated to get a good price and you are now under contract, the next hurtle is the property inspection. Your agent will insure that the contract that is signed by all parties include a contingency period in which you can have your condo inspected. During the inspection period, if your home inspector finds any major issues, you can ask the seller to make repairs or ask for a reduction in the price. If you are purchasing a resale condo, it's important to understand that many deals fall apart because of inspections.
The property inspection is not designed to address every deficiency in the home, but is intended to make you aware of issues that you otherwise would not be aware of. As a general rule, you should only request repairs (or a repair allowance) if the issue was not seen during the showings and can cost you a major sum of money. Many buyers try and nit pic using the property inspection, but its important to remember to not miss the forest for the trees. You don't want to miss a great deal on a perfect home because of a leaky faucet that cost $17 to correct.
.
Getting to the Closing Table
Once you get through the inspection process, there is still more work to do. Although you may be excited about the thought of becoming a Condo Owner, you have not yet crossed that finish line just yet. You need to work closely with your lender to make sure they have all of the documentation that they request.
Do not delay in getting them anything they as for -- regardless of how ridiculous it may sound. Getting the mortgage lender any financial documents they request in a timely manner is the single most important thing at this point in the sale. Any delays can push your "clear to close" from you lender back -- which in turn causes you to REQUEST an extension from the seller. If they don't agree (in writing) you may lose your condo.
Condo Docs
While working with your lender to get your mortgage approved another thing you will need to work on is the review of the condo documents. Since when you buy a condo, you are buying into shared real estate run by a condo association, you will will want to review the financials of the association. Since you will pay a condo fee every month, you will want to see where that money is going.
You will also be looking for special assessments, insurance issues and other potential liabilities. In addition to reviewing the financials of your condo association, you will also want to review the covenants and restrictions of the complex. Lastly you will want to review the minutes of the most recent condo association meetings. Although this part of the process can be overwhelming - a good agent that specializes in condominium sales will walk you through it.
Final Walk Through
Now that you have your "clear to close" there is one important last step before signing the paperwork and closing on your new condo. You will want to schedule a final walk through of the property. This is the time that you insure that the property is in the same condition as when you put in your offer and that everything is in proper order.
In the worst of cases, sellers have removed items that were intended to stay with the purchase or some damage could have happened (holes in the walls etc) during the move out process. It is best to schedule the final walk through the day of the closing. If the closing is scheduled for first thing in the morning, it's acceptable to complete the final walk through the day prior. Keep in mind that the final walk through, similar to the property inspection, is not a time to nit pic. You are simply ensuring that when you show up at your new home with the keys, that you don't walk into something totally unexpected.
If you have an issue with a minor thing in the final walk through -- you could easily lose your new home. Keep in mind, at this point, the lender has completed a dated package with all of the mortgage information. Most likely, your purchase agreement states that NOT closing (at the scheduled act of sale) could put you in breach of contract….even if you are correct in your complaint. Once the contracted closing date has passed - you enter into a potential nightmare of losing everything you have worked for.
This is not to say if the seller agreed to leave the curtains and they are not there, you shouldn't bring it up; but simply to keep things in perspective. You do not want to lose out on all the money spent and start the entire process all over again!
After Move-In Mounting Expenses
As a first time Condo buyer, many people put every penny they have towards their new home purchase. It's important that you have a little money set aside for extra expenses after you close on your new condo. Keep in mind, you will need some extra money for:
Utility Transfers and Deposits

Minor Repairs or Painting

Changing the Locks on Your New Condo

Purchase of New Furniture

Purchase of Rugs and Other Decorative Items

Moving Expenses
Having a little cash reserve on hand after you move into the house will ensure a smooth transition and not diminish the excitement of buying your very first Condo. Buying your first Condo is going to be one of the most exciting decisions you and your family will ever make.
With the help of a local real estate agent, you'll be in the best position to find your dream Condo, present the right offer, and close on the deal without any major issues.