Hurricane Michael Homeowners Assistance
Posted by Chad Miller on Wednesday, November 7, 2018 at 9:07 AM
By Chad Miller / November 7, 2018
Comment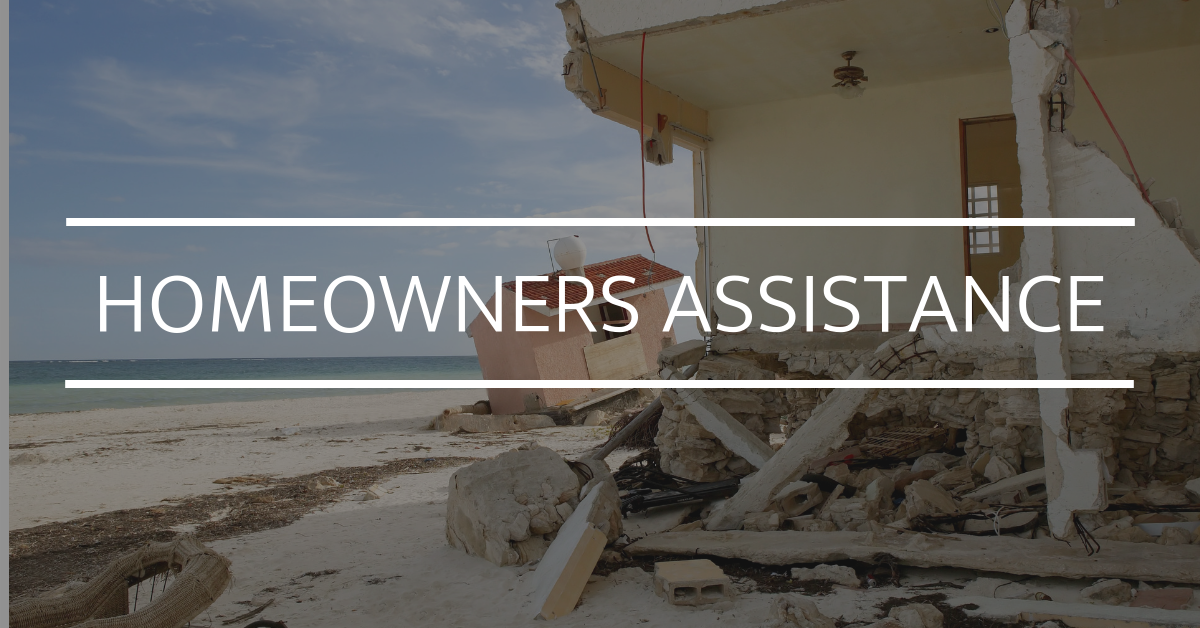 Hurricane Assistance for Homeowners
Many families in Bay County Florida are trying to find their footing and get back to their lives after the recent onslaught of Hurricane Michael. As too many Americans have found in recent years, recovering from a natural disaster can be challenging for anyone and finding the right resources for assistance can at times be a daunting task for those still reeling emotional loss of home, property and, in some caves, much more.
Getting Help
Knowing how to access the assistance you need can make the recovery process faster and much less stressful. Here we have put together a quick list of Federal, State and Bay County resources to help you and your family find the assistance you need quickly.
Quick Links to Federal Emergency Management Assistance
You can apply for federal assistance online by going to www.DisasterAssistance.gov or you can call their toll free number at 800-621-3362 if you need help registering or just want to talk to a real person. DisasterAssistance.gov is only for damages that are NOT covered by your insurance. If you need to speak with a trained crisis counselor, you can contact the Disaster Distress Helpline by texting TalkWithUs at 66746 or call 800-985-5990 for Spanish, press 2 or text Hablanos to 66746.
The DisasterAssistance.gov site can also help you to:
Federal and State Social Media Sites
Social media sites like Facebook, Twitter and others have become the go-to place in the case of natural disasters. Following is a list of social media quick links for those seeking assistance and information regarding Hurricane Michael. These sites will give you immediate and up-to-date information on the recovery process, assistance sites, food distribution, etc...
Local State Emergency Management Resources:
This is the main site for Florida emergency response and gives updated information at the state level concerning allocation of resources, sites for local assistance and other available emergency management resources for Florida residents.
If you do not find the specific assistance you need at the above site, the following is a comprehensive list of local government agencies for each county affected by Hurricane Michael.
Information for Homeowners
With such a huge amount of the real estate in Panama City being damaged, many of the properties unlivable, we anticipage huge demand for condos for sale in Panama City Beach and other areas not devistated by the hurricane.
As for homeowners in devistated areas that are thinking about selling their home, property values are changing by the day. With an influx of investors purchasing damaged homes as investment properties, many residents of Panama City, Lynn Haven, Parker and Callaway find themselves looking for a place to live. If we look at the history of real estate in disaster areas in other markets, we may even see bidding wars for properties in the lesser affected areas.
Appraisals May Become a Challenge
Most of the time a home is sold with a mortgage, the sale is predicated on the property appraisaing for the sales price or higher. Appraisers use previously sold, simular homes as "comps" to get the value of the home being appraised. When we see huge jumps in the sales price of condos for sale, in many instances, appraisers may not be able to find comparible properties recently sold to justify the price.
In these instances, the home buyer may need to pay the difference (between the appraised value and the selling price) or the home seller may reduce their price. With this being said, if you are thinking of purchasing a home, you may want to expedite your process to get in before prices rise too fast.
If you are looking for real estate help after the storm, don't hesitate to contact us as we are here and ready to help.
Fema Declarations by State:
Here you can find the federal resources allocated to each county as well as links to other state resources such as housing and food assistance.
Other Federal and State Resources:
The U.S. Hospital Finder helps you to find medical assistance, hospitals and clinics close to you.
The DisasterAssistance.gov Other Recovery Help page offers recovery assistance for businesses, local governments and communities.
Quick Links to Bay County Emergency Management Resources
Homeowners, renters and business owners who have uninsured and under-insured losses as a result of Hurricane Michael in Bay County and the surrounding areas may now apply for disaster assistance at Florida Emergency Info.
Mobile Registration Intake Centers
These centers are able to assist residents in applying for assistance until long-term Disaster Recovery Center locations are located and set-up.
Points of Distribution for Bay County
Although in Calhoun County this is the closest POD to Bay County and is available to supply Bay County residents with immediate emergency supplies.
Disaster Recovery Centers
A Disaster Recovery Center or DRC is a mobile office where residents can go for information about the disaster assistance programs available for Bay County.
To apply for assistance you will need the following information:
Social Security Number
Daytime telephone number
Current mailing address and address and zip code of the damaged property
Insurance information, if available
Returning Home After a Disaster
The most important thing after a natural disaster is for people to be able to get back into their homes. Here are a few links with tips to ensure that when you do return, you do it safely.