Need Roof Work? Read This First!
Posted by Chad Miller on Monday, September 11, 2017 at 12:50 PM
By Chad Miller / September 11, 2017
Comment
Choosing a Roofer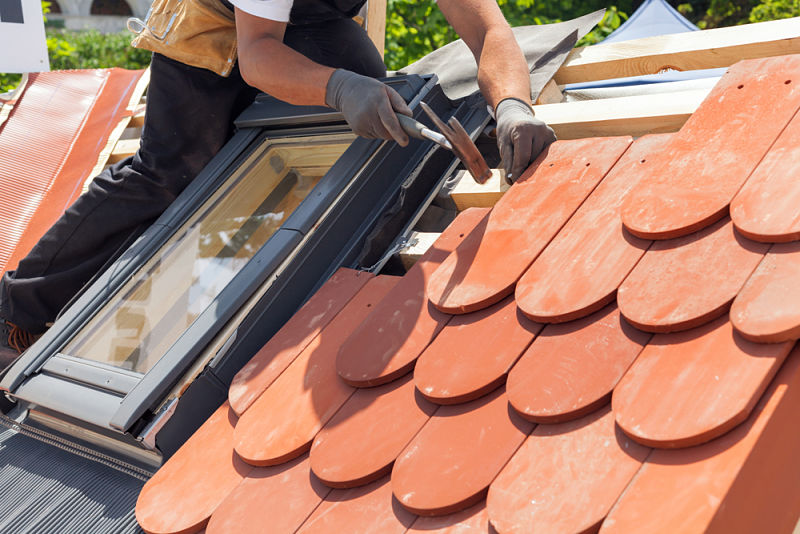 With all of the recent hurricanes and storms, there will be thousands of new roofs and roof repairs done over the next six months.
Combating the Elements
Even if a storm didn't produce a torrent of rain or volley of hail, wind alone can cause enough damage to your roof to warrant repair or replacement. According to the National Weather Service every thunderstorm has a straight-line burst of wind and at 50 to 60 mph, you will start seeing damage to homes such as trees toppling, downed power lines and debris blown from other homes that can cause enormous damage to your home.
Roof Damage From Storms
After a storm, check your roof for any damage incurred wind, hail or objects flying through the air. Document any problems with pictures if possible, so when you contact your insurance company or, in the case of a natural disaster such as the ones that recently happened with Harvey in Texas and then, Irma in Florida, FEMA, you will have documented evidence of the damage done to your home.
In Panama City Beach
We anticipate many roofs in need of repair after Hurrican Irma. As with any major storm, we anticipate changes in Panama City Beach Real Estate as some homes will be in need of repair and some condos in Panama City Beach will requrie a special assessment to complete the need work.
Assessing Roof Damage
Thunderstorms, tornadoes, and hurricanes will tear shingles from your roof and falling tree branches cause a lot of damage. Here is a simple inspection list:
Inspect the roof from the attic for leaks or water damage. If you see water stains on your ceiling or walls, the chances are good that you have a leak and will need repairs or possibly a roof replacement.

Look for signs of damage from the ground. Inspect your home for missing shingles, damaged fascia, or any metal that might be displaced from around the chimney. Assess the condition of drain pipes, rain gutters and any of the edges or angles where your roof meets the walls.

Of course, if a tree has fallen on your roof you're going to need a new roof and will need a professional to determine what, if any, structural damage might have occurred. Hire a general contractor or roofer with a general contractor's license if your home suffered structural damage, as this will require more than just roof repairs.

In the event of hail, you'll need to check for roof damage as well as siding damage. Hail damage is usually seen in the form of a dimple, made by small chunks of hail pounding the outer layer of shingles.

Think safety first and avoid going on the roof yourself to check for damage and instead contact a professional roofer.

Contact your insurance agent right away so they can assess the situation and determine whether you should file a claim.

Keep receipts for all work, including any you do yourself, such as covering windows or holes in your roof to ensure that you are reimbursed should you file a claim. Many policies will cover these expenses when submitted with a claim.
Locating the Right Roofer After a Storm
Find a roofing company that has both a strong claims department and experienced repairmen. If you are installing spray foam insulation because of the superior R value, you will want to make sure to use a a contractor that specialies in spray foam insualtion. Homeowners should avoid companies that offer to pay their deductible.
LICENSING
Make sure that the roofing company you hire has the proper licensing for your parish, county or state. Having the right licensing assures that the company has the resources and ability to complete your roofing job. Ask the company to provide proof of licensing documentation. Don't just take them at their word. Due to the high cost of permitting in some areas, some companies will avoid getting the necessary permits to perform the job. This puts you and your home at risk. Working with a properly licensed roofer will ensure that your job is done right.
INSURANCE
As with proper licensing and permits, a reputable company should be able to have enough insurance to cover any worker accidents that might happen on the job. If a company is not insured, a claim could be made against you as the homeowner. Protect yourself and ask for proof of their insurance. If a company isn't capable of providing proof of insurance, keep looking and find a company that can give you the security you need to know that they will get the job done right. Peace of mind is is better than a cheaper bill.
PRODUCT
Do your research. There is a wide range of products and material brands that are available to replace your roof. By doing your own research, you can ensure that when your roofing company offers material options you will understand the quality of the materials they are talking about, their cost, and whether it's what you really want on your roof.
GUARANTEE
Is there an offer for guarantee of their work? It's important for you to know that the company you are hiring will come back to your home to inspect and repair any problems within an agreed upon period of time. If they are a reputable company, they will back their materials, products, and work.
REVIEWS
It's always a good idea, before you hire, to check out the online reviews for the companies you are considering. If the company has built a reputation, you can bet that someone has left a review online. Reviews from other people in your community are a great resource for finding the right company or avoiding the wrong one. In most cases, unless they are a brand new company, a reputable company will have built a number of satisfied or unsatisfied customers who were willing to share their opinions.
WORK
Most roofing companies will have a website that with some type of portfolio/gallery that will give you a better idea of the quality of their work. In many cases they will show before and after photos to really showcase their work. If they don't have an online portfolio, ask them if they have an album of jobs and it's always a good idea to get a list of past clients with similar needs to your own so you can contact them. Taking the extra time to research a company can be the difference in making a costly mistake or a good long-term investment for your home.
RESULT
Whether you are selling your home or planning to live there forever, you want to know that you are making the right choice each time you invest in your home. The tips here can be applied to almost any product or service that you need for your home. Take the time to do your homework and at the end of the day, you'll know that the investment you've made was a good one.