What is a Real Estate "Bidding War"? How YOU Can WIN!
Posted by Chad Miller on Thursday, July 5, 2018 at 4:23 AM
By Chad Miller / July 5, 2018
Comment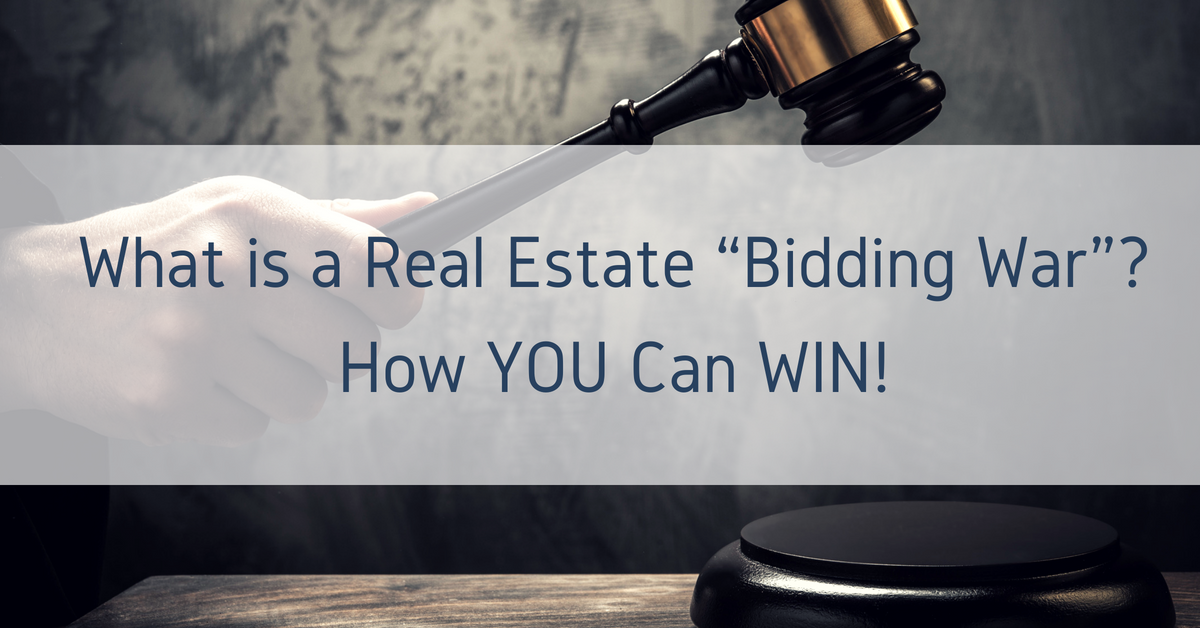 How YOU Can WIN Your "Bidding War"? And What it is
Real estate has long been one of the least friendly markets out there, and it's not getting any better. If you're trying to buy a home or condo in today's market, you're forced to deal with a rapidly dwindling supply, and a rapidly expanding number of people buying them up. This recent trend has started to choke the market and has lead to inflated prices and bidding wars. Bidding wars can be a massive problem for prospective buyers, and a lot of it stems from simple misinformation.
Outside of the Auction House
When you hear the term "bidding war," you might think of a group of people desperately holding up small, numbered signs, packed tightly into an auction house. Real estate bidding wars aren't really like that at all. When someone mentions a real estate bidding war, they're not really talking about a big auction, but more often a small struggle between a few buyers to win over a seller. Usually, this ends with the seller making more money, a couple disappointed buyers, and one buyer with a new, slightly more costly house.
The Process of a Bidding War
So, you may be wondering how do bidding wars work in real estate. Well, wonder no more. It's actually pretty simple. A bidding war starts when two or more people make an offer on a property, and the buyer can't decide between them. When this happens, they contact the buyers and tell them that they'll have to sweeten the deal a bit if they want to beat the other would-be homeowners. This often leads to the two prospective buyers slowly raising their offers or backing out until only one buyer remains. The last buyer standing usually gets the deal. A bidding war can also end when the seller just decides they like one of the offers more than the others.
Taking Home the Gold
The road to victory is paved with bidding wars you didn't win; well, something to that effect anyway. You won't win every bidding war, and that's just fine. There are always more houses out there, and if you know what you're doing, then you'll be able to win a bidding war; and you only need to win one. The most important part of a winning a bidding war is being patient, preparing in advance, and keeping yourself under control. Don't get too emotional, or you could end up botching a good deal.
Finding a Property
Finding real estate that fits your bill can be a massive challenge, but there are a few things you can do to help make things easier. The first thing you should do, before anything else, and especially before you even think about getting into a bidding war is setting a strict, non-negotiable budget. This is an amount that you will absolutely not pay more than. If an offer is one cent above this budget, then you won't go through with it. It's absolutely imperative that you stick with your budget through thick and thin, and only buy a house that you can actually afford. When you're creating a budget, make sure that it includes other costs as well, such as taxes, mortgage payments, insurance, homeowners association fees, and any repairs you'll need to do. After you have a rock-solid budget in mind, you can start looking for houses a little bit below it. If you don't have a Realtor at this point, get one, they'll be invaluable. Chances are you'll have to look at more than one house, and hiring a professional agent will find houses that fit your particular criteria for living. They'll know how to find the properties you want, and will even help you set up deals. You can also ask your real estate agent any questions you have about the process, or even ask them for advice on bidding wars.
Financing the War Effort
Now, at first blush, it may seem like the best way to win a bidding war is to just offer more money than everyone else. But there are other ways to sweeten the deal, and they can be both more effective, and a lot more cost-effective than just throwing as much money as you can at the seller. Cash is the first way of sweetening a deal. Almost any seller will prefer a few thick bundles of cash over a complicated bank transfer. Cash cuts out the middleman and eliminates almost all of the hassle. It's also just really cool to get a veritable ton of dollar bills given to you. If you're at all able to pay for the house with a large stack of dollar bills, then it's far more likely that you're going to win the bidding war. Up to four times more likely, in fact. If you need to, you can still take out a mortgage after the fact. However, if you don't have a briefcase or duffel bag full of cash on hand, then the next best thing is a deal that just doesn't have any contingencies. Nobody likes contingencies except banks. A seller is going to be more likely to take your offer if they already know it will go through. Offering cash is the best way to avoid contingencies, but failing that, your next best bet is having the loan pre-approved, or simply offering them a deal without contingencies, and hoping your loan is approved. Although, the latter isn't recommended if you can't afford the financial hit in case the loan doesn't get approved. An offer where you already have a pre-approved, mortgage underwriting loan will earn you quite a few points.
Getting All Emotional
Now, I think we can agree that emotions cloud your judgment, can lead to bad deals and are generally just a bad thing to bring into negotiations. If you let your emotions get in the way, then it can cost you the deal, or, even worse, force you to take a deal that hurts you. All that said, emotions aren't always bad, and can actually help you. Some sellers will soften up a bit, and be a lot more open to your offers if you've sent them a heartfelt personal letter. If you're looking to buy a home to start your family, or if you're hunting for that perfect vacation condo, or just looking for an investment property, many sellers will want to hear your story, and they'll often sympathize, as many will have made memories in the house they're selling. It can be an emotional experience, and taking advantage of that can get you a better deal. Just be sure that any letters you send are genuine, and not something about your plans to demolish the house, gut it, or flip it. Sending a bad letter is far, far worse than sending none at all.